CEIWEI CommTone Serial port tools v7.1
CEIWEI CommTone Serial pot tools, It is a powerful serial port communication debugging software, embedded with more than 100 standard CRC check functions, and supports high-low byte pre-conversion conversion; supports batch protocol debugging, and supports files, hexadecimal, UNICODE string transmission and display; support infinite loop transmission, and cyclically send data; support high-precision transmission time delay. Using CommTone can effectively improve the efficiency of serial communication of engineers debugging equipment.
Support Windows system version: WinXP, Win2003, WinVista, Win7, Win2008, Win8, Win2012, Win2016, Win10, 32/64 bit system.
Supported languages: Simplified Chinese, Traditional Chinese, and English.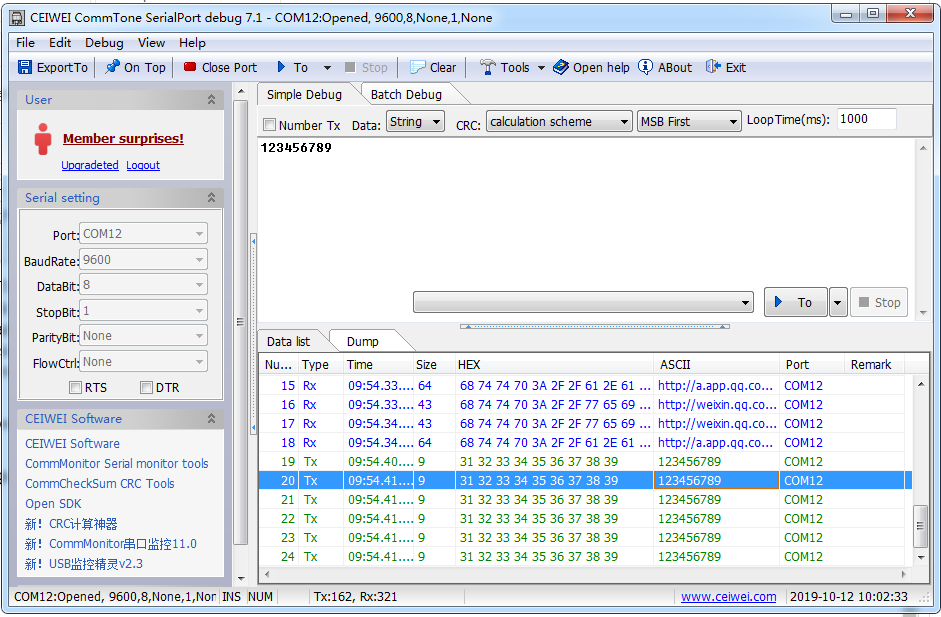 CommTone starts seconds to open! Without any plugins, you don't need to install any third-party dependencies;The flexibility of simple debugging! Powerful CRC check function eliminates engineers' extra calculation of CRC redundancy check;The professionalism of batch debugging! Batch debugging can professionally define the device serial communication protocol package, set the batch debugging project protocol to debug according to the defined process, and can be saved into the project project file, which can be cycled or debugged by number of cycles;
Powerful data caching! The data list technology supports a 1 million-level data volume cache display and supports data output TXT, CSV, and HTML.
CommTone serial debugging wizard software for users
1. Equipment software hardware engineer, software tester;
2. Information software engineer and communication tester.
Support member mobile phone number registration login, not restricted to use the computer, any computer account login, please see "Member Management" for details. The member account function is applicable to CommMonitor serial port monitoring, USBMonitor monitoring, CommTone serial port debugging, All CEIWEI software such as virtual serial port can be used to log in on any computer; but the same account, only one computer can be online at the same time.
For more information, please contact Skype: jfyes@hotmail.com
Download: CommTone v7.1