CEIWEI Serialport monitor 11.3
CEIWEI SerialPort Monitor Wizard is a professional for RS232 / RS422 / RS485 port monitoring Powerful system utility software. CEIWEI SerialPort monitors the display, recording and analysis of all serials in the system Port activity. This is a question that may arise during tracking application or driver development, serial device testing and optimization.The ideal way of thinking. It also provides filtering, searching, data export, and powerful data interception to count the number of ports specified.According to the flow and control flow information, it is intercepted and saved for analysis. If you look at the change in port status (baud rate, data bits,Check digits, stop bits), intercepting upstream and downstream data, fast processing speed, high interception efficiency, and can be in hexadecimal,Displayed in ASCII characters, full support for Unicode.
Support Windows system version: WinXP, Win2003, WinVista, Win7, Win2008, Win8, Win2012, Win2016, Win10, 32/64-bit systems, drivers are signed, fully support 64-bit Windows systems.
Language support: Simplified Chinese, Traditional Chinese, English.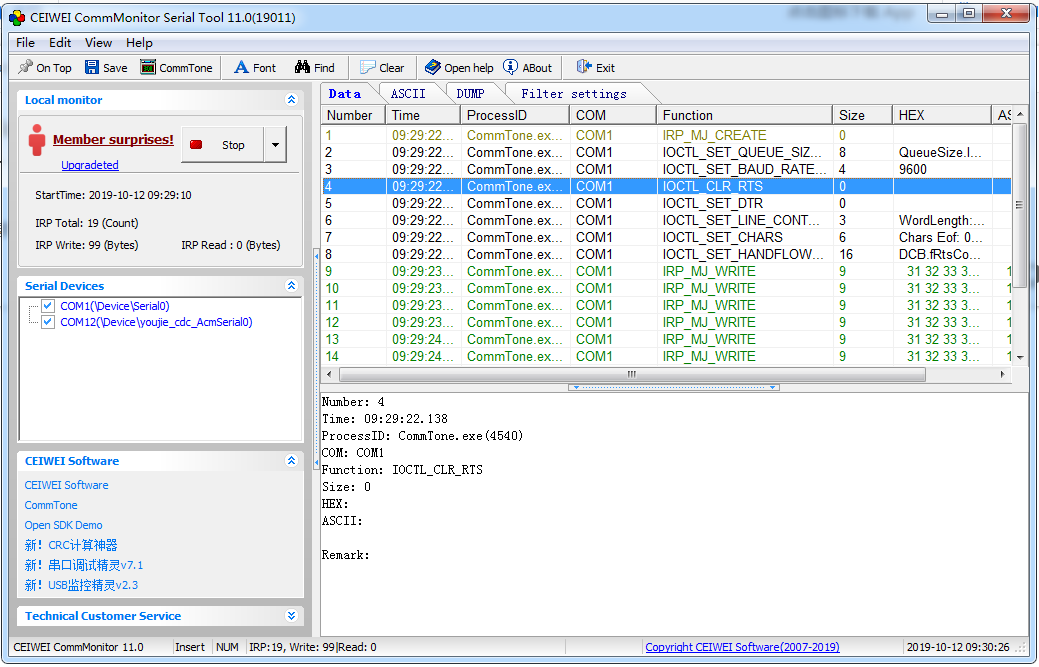 11.0 update log
----------------
1. Support member mobile phone number registration and login, not restricted to use computer, any computer account login, please refer to "Member Management" for details, member account function is applicable to CommMonitor serial port monitoring, USBMonitor monitoring, CommTone serial port debugging, virtual serial port and other CEIWEI software You can log in to any computer; but the same account, only one computer online at the same time.
For more information, please contact WeChat/QQ: 348677065.
2. Support monitoring the serial port in use (opened);
3. After the first administrator permission is installed, the program is run by non-administrator rights;
4. Support Chinese Unicode string decoding;
5. The SDK supports blocking the serial port from writing data packets, and can intercept the written data packets and then modify them, then write them to the serial port, or you can actively write any data packets to change the serial. Output of port data;
6. The SDK supports OCX/DLL calling methods. For details, see the MFC-DLL/DelphiDLL Demo example.
Download: Local Download
CNET: https://download.cnet.com/CEIWEI-CommMonitor-Serial-Tool/3000-2383_4-78297347.html